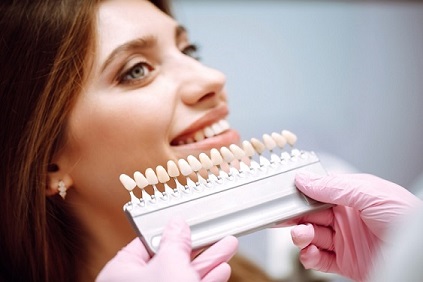 What are Veneers?
Veneers are coverings that fit over the front surfaces of your teeth. Technicians use high-quality dental materials, like tooth-colored composite or porcelain, to create them. Dental veneers are cosmetic in nature. They can conceal a wide range of aesthetic imperfections, including chips, cracks, gaps, tooth discoloration and more.
Procelain Veneers in Katy Texas
Porcelain veneers are very thin shells of tooth-shaped porcelain that are individually crafted to cover the fronts of teeth. They are very durable and will not stain, making them a very popular solution for those seeking to restore or enhance the beauty of their smile. Porcelain veneers are also a popular cosmetic dental treatment in our office. Veneers use a thin layer of ceramic or porcelain to cover the visible part of one or more of your teeth to improve their shape and appearance.
Veneers last longer than bonding and provide a superior appearance. Veneers can improve teeth that:
Have spaces between them
Have become chipped or worn
Are permanently stained
Are poorly shaped
Are slightly crooked